Sixers vs Bulls Preview
Updated: Thursday, April 6, 2017 06:08 PM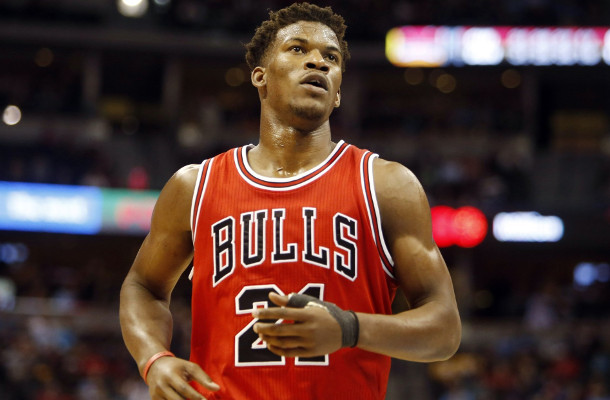 The Sixers are in the midst of a stretch of 7 games in 12 days to close out the season, shifting their focus to the visiting Chicago Bulls tonight at the Wells Fargo Center.
The Bulls have been a tough team to figure out. After losing 7 of 8 in a tough mid-March stretch, they've responded by winning 5 of their last 7, propelled by a top-10 defense over that span. With the Sixers' 141-118 loss to the Brooklyn Nets on Tuesday night fresh in their minds, how will Brett Brown's team respond?
The Details:
What: Sixers (28-50) vs Bulls (38-40)
Where: Wells Fargo Center, Philadelphia
When: Thursday, April 6th at 7 PM Eastern
Watch: Comcast SportsNet
Projected Starting Lineups:
Sixers: T.J. McConnell, Timothe Luwawu-Cabarrot, Justin Anderson, Dario Saric, Richaun Holmes
Bulls: Jerian Grant, Jimmy Butler, Paul Zipser, Nikola Mirotic, Robin Lopez
(Note: Official starting lineups are released approximately one hour before the game).
Injury Report:
Sixers: Ben Simmons (out, fractured right foot), Jerryd Bayless (out, wrist), Joel Embiid (out, knee), Robert Covington (out, knee), Jahlil Okafor (out, knee), Sergio Rodriguez (out, hamstring), Dario Saric (24-minute limit, plantar fasciitis).
Bulls: Rajon Rondo (out, wrist), Dwyane Wade (out, elbow), Cristiano Felicio (out, tailbone)
About The Opponent:
The Bulls had a splashy offseason, bringing in big name guards such as Rajon Rondo and Dwyane Wade to help build a winner around cornerstone Jimmy Butler.
Through March 21st the Bulls were 33-38 and the 10th seed in the Eastern Conference, with Dwyane Wade on the shelf with an elbow injury. They sported the league's 21st ranked offense and were shooting just 32.5% from three-point range. The perimeter shooting and spacing concerns that many predicted heading into the season turned out to have merit.
Yet since that point the Bulls have won 5 of their last 7 games and are now not only in the playoffs, but only 2 games out of the 5th seed.
Their offense has been better, sure, vaulting all the way up to 13th in the league since March 22nd. Yet it's their defense that has been even more impressive, allowing points at a rate of just 104.5 points per 100 possessions, a figure which ranks 8th in the league over that stretch.
There have been a couple of key changes during that run. First, Dwayne Wade hasn't played since March 15th because of his injury. That, combined with moving Portis off the bench, has helped Chicago's floor spacing immensely. In fact, after spending most of the year toward the bottom of the league in three point percentage the Bulls have connected on 42% of their 25.1 attempts per game over their last 7 games.
That change isn't just because of personnel, though. Bulls players are simply playing better of late as well. Front and center in that group has been Nikola Mirotic, who has been averaging 19.4 points over the last 7 games while shooting an incredible 54.2% on 6.9 three-point attempts per game. Having a power forward who has been unconscious from the perimeter has helped open things up for the Bulls' entire offensive attack.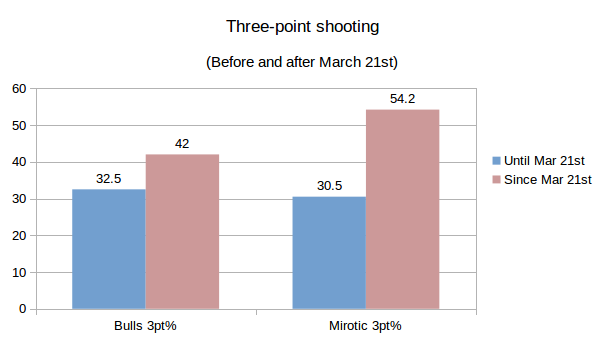 Key Matchup:
Jimmy Butler is the obvious choice here, and it's warranted. Butler is averaging 27.9 points and 8.4 assists per game over the last 7 games, while getting to the free-throw line nearly 10 times per contest. Justin Anderson will have his hands full trying to keep Butler in check.
Random Stat:
The Bulls' expected starting lineup (Grant, Butler, Zipser, Mirotic, Lopez) has not played a single minute together yet this season. Lineups with Butler, Zipser, Mirotic, and Butler, however, have a +20.4 net rating in 144 minutes on the season, 133 of those minutes with Rajon Rondo rounding out the 5.