Sixers close era with 120-111 loss to Pacers
Updated: Tuesday, April 11, 2017 09:57 AM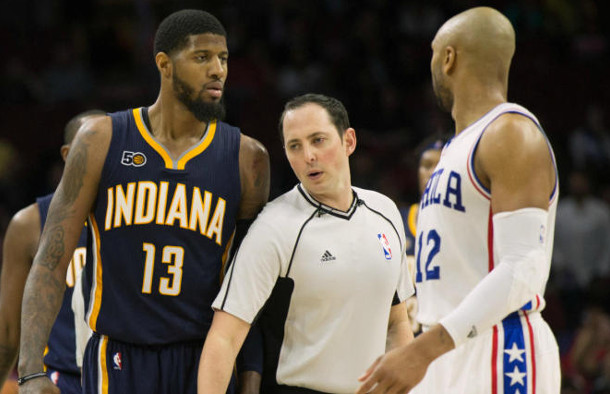 The Philadelphia 76ers fell to the Indiana Pacers Monday night by a score of 120-111 in their final blah blah blah blah blah blah blah bhah.
The truth of the matter is, I can finish the rest of that sentence however I want. It doesn't really matter. The game-to-game details of this team have rarely been important, as the Sixers closed out the home portion of their schedule with their 164th consecutive game at the Wells Fargo Center where the outcome wasn't particularly relevant to the fans of the home team.
That's not to say the games were irrelevant. How the young players were progressing, the skills they were showing, and how that impacts the team's future outlook were all very much a focus from the diehard fans who saw the reality of the Sixers' situation back in the summer of 2013, and who stuck with the team through this extended rebuild as they chased the high level talent this city has desperately craved.
The games mattered. The game specific details, on the other hand (such of the final score, the turning point in the game, the bad call, etc) were relevant to just a scant few who didn't already watch the game.
Sitting there at the Wells Fargo Center last night it was easy to envision that changing. There's likely to be one very big difference the next time Brett Brown takes to the Wells Fargo Center sidelines as head coach of the Philadelphia 76ers: expectations.
(And make no mistake about it, despite a 75-252 record Brown should be the coach next season.)
That's not to say a playoff run is necessarily expected for the 2017-18 season, or that wins are even the measuring stick we'll use to judge progress. Acquiring, evaluating, and developing young talent is still the name of the game for this 76ers franchise.
What it does mean is that if you take the talent the 76ers have, provided they have healthy lower extremities, if winning at a more consistent volume doesn't follow it will be fair to wonder if the players are developing properly.
If Joel Embiid is there anchoring the defense, and Ben Simmons is whipping passes around the court, and Dario Saric is building upon his second half surge, and Robert Covington is locking down wing scorers, and Richaun Holmes continues to improve as a two-way player, and T.J. McConnell continues to steal inbounds passes, and Timothe Luwawu-Cabarrot's jumper becomes more consistent, then there's no reason Sixers fans should be focused on lottery positioning* next spring. If you're in this position again next year, that's a sign something went drastically wrong.
(*Not counting the Lakers pick if it doesn't convey this year, of course.)
Brown wouldn't commit to that before the game. This franchise isn't really hip to putting a timeline on these types of things. "The answer is we shouldn't expect anything," Brown said before the game when asked about the playoffs next year, citing uncertainty with the draft pick(s) and the health of Embiid and Simmons as huge unknowns. "I think to pretty it up and say it any other way might sound a little bit exciting now, but it's not true."
But we were all there in January. We saw what the city has in Joel Embiid. We saw the progress guys like Covington and Holmes and McConnell have made. We heard Joel Embiid, perhaps premature by a year, talk about playoffs when all of the pieces started to click. We can all look at the draft assets and the cap space and see the flexibility this front office has to further complement that core with pieces that fit and move the program forward.
"I think you feel a little bit of validation when you have a touch of success like January gave us," Brown continued. "It's not, I use the word vapor and mist. We can actually see people and watch them and think that they're ours. We have way more keepers than we have ever had."
So the Sixers lost again last night to the Indiana Pacers, this one by a score of 120-111, their 7th consecutive loss. Paul George led the way with 27 points on 11-20 shooting, aided by 20 points from Thaddeus Young, 18 points and 13 rebounds from Myles Turner, and 15 points from point guard Jeff Teague. The Sixers turned the ball over 18 times and allowed the Pacers to shoot 63.8% from inside the three-point line. On the few shots the Pacers did miss they somehow managed to get 37.8% of them back on offensive rebounds. Paul George and Gerald Henderson were angry at each other.
Those are details that precious few of you truly care about. But, health permitting, that should change the next time the Sixers take the Wells Fargo Center floor.
Quote of the night
Brett Brown on the experience Timothe Luwawu-Cabarrot and Richaun Holmes have had by starting these last few weeks:
"It's priceless. What I think it does for those guys, led by me, there needs to be an appropriate fear of 'Okay, now what's going to happen with free agents? Who are they going to get for that?' And that's real. 'Who are they going to draft? How does that affect me?' That's real. And I think that when you have a taste of it like they had a taste of it, instead of guessing 'Oh, geez, I feel like if I put in time maybe I can get into this'. They were in it. They lived it in real time. And I think when you taste it like they've tasted it, it produced a [reaction of] 'I don't want to let that go'. There's no sense of entitlement. There's no sense of arrival. They are going to have to fight like hell to hold their spot and to continue on playing minutes for the team that we're going to have next year. And that's just the lay of the land, that's the nature of any competitive, professional environment. And they're in one. And I believe that they will embrace this summer. So the taste that they have had, I think is just going to be a very sweet taste that they don't want to let go of."

— Brett Brown, on Luwawu-Cabarrot and Holmes' roles next year.