Sixers Mailbag – Thursday, June 1st, 2017
Updated: Thursday, June 1, 2017 05:19 PM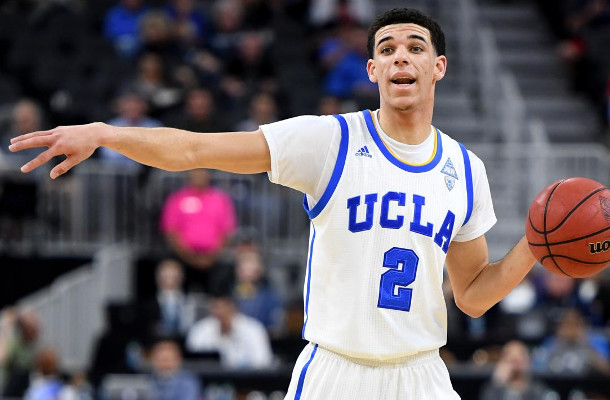 "If Lonzo was to fall and we took him at 3, how do you see our lineup makeup impacted since Lonzo to me projects best as a 2 guard on both ends of the floor, and we all know Simmons will guard 3's or 4's? "
— Mike
I think there are a number of nice things about Lonzo on the Sixers.
First, obviously, is that Ben Simmons will likely create quite a bit in the half court. Not that we know for sure exactly how mu ch Ben will create at the NBA level, but you already have a guy on your roster that will create opportunities for his teammates, and hopefully at a high level. With that consideration in mind, that not only minimizes some of Lonzo's weaknesses but also enhances some of his strengths.
He has crazy range on his jump shot, and if players are guarding him 24′ from the basket, that's going to help Simmons immensely. He's an incredibly quick decision maker, so if Simmons draws a double team and kicks it to Ball at the top of the key he can pick apart the defense and find the late rotation. When the ball is kicked out to him his defender is going to have to close out hard because of his shot and he's quick in a straight line, and letting him attack an unset defense rather than asking him to create each and every trip down the court from the top of the key should give him much more drive and kick opportunities than if he were the primary focal point. He is a legitimately elite cutter for his position, smart and with the ability to elevate in space, and with Simmons and Embiid drawing attention, he'll have cutting lanes available. Finally, in a motion based offense he is elite in his reads, decision making, and accuracy.
Defensively, I think his height gives him much needed versatility. His man-to-man and pick and roll defense was exploited quite a bit at UCLA, but he has great playmaking instincts and the size to defend various matchups. That's important because, especially if he develops his core and upper body strength, you might be able to realistically stick him on the weakest shot creator on the perimeter, minimizing his man-to-man issues and letting him play free safety and off-the-ball helper. He's actually pretty smart and instinctive in this role, and it could transform him from a question mark you'll have to game plan to overcome into an actual defensive contributor, and his combination of quick reflexes and smart lane jumping will get Simmons and himself out in transition, where they should shine together.
I don't think Ball would finalize the Sixers roster. You probably want the other guard to be another high level creator to help take some load off of Simmons' shoulders. But if Ball's your 4th best scorer (behind Embiid, Simmons, and <guard X>), his strengths become a huge, huge, huge asset for the Sixers, and you already have 2 of those 3 required pieces thanks to the Sixers' previous rebuilding efforts.
(Note: there are two more mailbag questions exclusive to Patreon subscribers. Don't see the questions and want to become a subscriber? Click the "Become a patron" button below). 
Min. Contribution required: $3