Brett Brown on Nerlens Noel, Michael Carter-Williams, and reporters
Updated: Tuesday, September 24, 2013 08:00 AM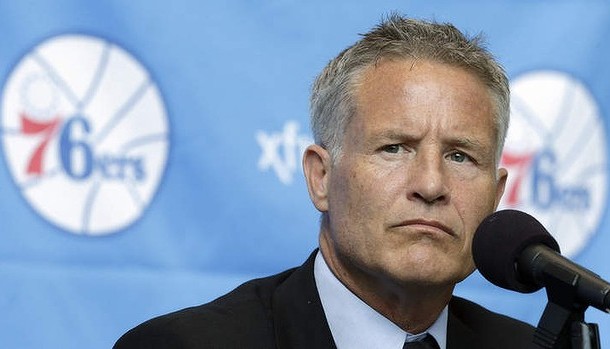 Chris Mannix had Brett Brown on The Chris Mannix Show yesterday.  You can read the full transcript of it on The Chris Mannix Show's Facebook page.
There were a couple of parts which I'd like to highlight, with the most important being:
Nerlens Noel's recovery timeline
The entirety of Sixers nation spent last season waiting.  Waiting to see Bynum in training camp.  Waiting to see Bynum return.  Having timetables given, then taken away.  Then finally waiting for the season to mercifully end.
For Nerlens Noel, there is no timetable.
"There really isn't. You know, everything is influenced by what's best for him in regards to his health. We saw Derrick Rose go through the year last year. They opted to sit him in exchange for caring for his health. It's a similar situation here with Nerlens. We'll be advised by the doctors on how he's feeling. The long answer is no. " — Brett Brown on Nerlens Noel.
That, of course, is the right approach to take.  The longer he sits, the more some in the media will worry, perhaps even criticize.  The more comparisons he will draw with Andrew Bynum.  But it's absolutely the right approach to take.
An ACL isn't a degenerative condition.  If he takes his time, rehabs right, and doesn't rush back, he should have a long term positive prognosis.  There's no reason to rush him back days/weeks/months early.  Especially with the ability to have a rehab assignment with the 87ers, where they can control his minutes and get him back into game shape, how many games he plays with the 76ers is of little consequence.  Sure, it would be great to see him play 20-30 games at the end of the season, but not if there's any risk whatsoever.
On Michael Carter-Williams development
"I think when you look at development, the thing is really trying to combine a holistic approach with bottom line stuff. What does he do in the weight room, what's his day-to-day health issues? Everybody responds and learns in different ways…I see it being more than just shooting a lot of jump shots to improve his jump shot. It may be the bottom line, but I feel that with all my young players, we really need to look at, again, a more holistic type of approach."
To be honest, I'm not entirely sure what he means by this, and I would have loved a follow-up question.  I get that there's more to it than just repetition, and conditioning is a huge factor.  Having scouted many players over the years for DraftExpress, there are more than a few who you can see their jump shots come up short later in the game after carrying a heavy offensive burden or after chasing around a defender.  But a few more specifics would have been nice.
Also, if you read through that article he talks about conditioning constantly.  It will be interesting if this on conditioning has any impact on some of his inherited players (RE: Kwame Brown, if he's still on the roster, and Evan Turner, specifically).
On his confidence with ownership / management
"I actually feel in hindsight that [the long hiring process] helped me, because it enabled me to research owners, it enabled me to research the new general manager, and new CEO. "

"I had Candy Land in Spur land. If you think about it, I've been lucky to win 50 games in all of my 12 years in the league, and I had a very secure role with Pop, next to Pop and a great organization. And I've got a young family. To make a move, it better be for the right one…If you can get it right, I believed in Sam Hinkie, I believed in Josh Harris, and David Blitzer, and Art Wrubel, and David Heller, the four of them, were a pleasure to speak with. And the direction of the program and the financial resources available, the new practice facility coming in a few years, maybe we get lucky with a ping pong ball, and money to attract free agents, and a fantastic city. It all sort of weighed up to a calculated risk that I think this is a great situation and I'm really grateful that they selected me as their coach. "
This is all stuff he's said before, but you really get the sense that he buys into the philosophy.  That's very important.  Having the front office and coach on the same page — who to develop, what kind of offense to run, what the priorities are — is a great advantage.
On reporters
"I don't have that kind of resume to ask somebody in the audience of the media if they've actually been at the game after they ask some type of question. So I'm going to roll the dice my own way, but you gotta love Pop, don't you?"

"We get a kick out of it, because after the game, all the coaches we get together and have some food, we talk about the game. Inevitably, the press conference is on the TV while we're eating. I have to tell you that we all find it quite humorous, the anxiety that he does place on a lot of people."
As somebody who has been credentialed over the past few years, *phew*.  But as somebody who thinks Popovich's press conferences are insanely entertaining, that's a shame.  Hey, maybe in 4 years once he builds up the clout needed to answer in a similar manner?  Guess the door's still open.  I'm not sure I see that personality in Brown, though.
Link: Chris Mannix's interview with Brett Brown [The Chris Mannix Show's Facebook Page]