Nerlens Noel named to NBA All-Rookie First Team
Updated: Monday, May 18, 2015 03:14 PM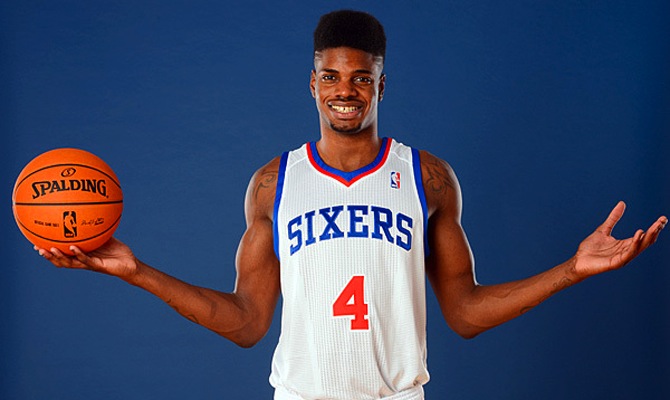 Philadelphia 76ers center Nerlens Noel has been named to the NBA's All-Rookie First Team. He is joined by Andrew Wiggins, Nikola Mirotic, Elfrid Payton, and Jordan Clarkson.
Noel finished with 125 first place votes (worth 2 points each) and 2 second place votes (worth 1 point each). His 252 total points were the third most, behind Wiggins (130 first place votes for 260 total points), and Mirotic (128 first place votes, 258 points).
Marcus Smart, Zach LaVine, Bojan Bogdanovic, Jusuf Nurkic, and Langston Galloway were named to the All-Rookie Second Team.
Jerami Grant (4 points) and JaKarr Sampson (2 points) also received votes.
Noel finished the season averaging 9.9 points, 8.1 rebounds, 1.9 blocks, 1.8 steals, and 1.7 assists per game. He was sensational after the All-star break, averaging 13.1 points and 1.0 rebounds in that span.
Noel finished 3rd in Rookie of the Year voting. Minnesota's Andrew Wiggins won the award.
The NBA sent out a press release on the All-Rookie team results, which contained the following on Noel:
Noel led all rookies in rebounding (8.1 rpg), steals (1.77 spg, 10th in the NBA) and blocks (1.89 bpg, seventh in the league). He was the only player in the league to rank in the top 10 in both steals and blocks. Noel became the second rookie in NBA history to average at least 1.50 steals and 1.50 blocks; David Robinson accomplished the feat in 1989-90.