Joel Embiid will have surgery to repair torn meniscus in left knee
Updated: Wednesday, March 22, 2017 04:19 PM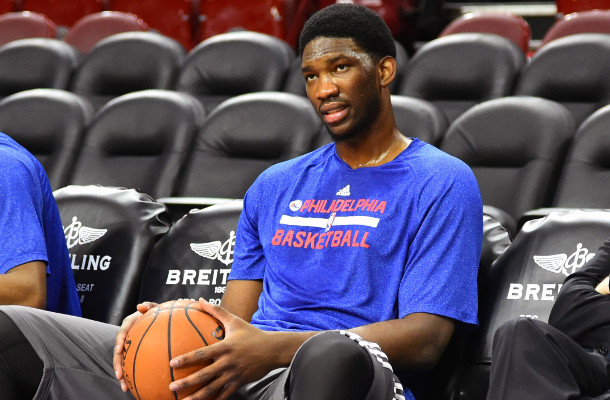 It is "very likely" that Joel Embiid will undergo surgery on his knee, according to Marc Stein of ESPN.
Knee surgery for Sixers center Joel Embiid is "very likely," according to league sources. Story on the way momentarily

— Marc Stein (@ESPNSteinLine) March 22, 2017
(Note: the team has confirmed that Embiid will have surgery. See below for the details).
It was first reported that Embiid had a torn meniscus in his left knee on February 11th. The team finally announced on March 1st that he would miss the remainder of the season because of the injury.
Embiid hasn't played since appearing in a nationally televised game on January 27th against the Houston Rockets, a week after initially suffering a bone bruise in the same knee against the Portland Trailblazers. Embiid had one of his best games of the season against Houston, finishing with 32 points, 7 rebounds, 4 assists, 3 steals, and 2 blocked shots in his final appearance of the season.
The team did not disclose the meniscus tear prior to the February 11th report, believing it was a pre-existing condition and not the cause of his pain or swelling.
Embiid averaged 20.2 points, 7.8 rebounds, 2.5 blocks, and 2.1 assists in 31 appearances in his rookie season. Embiid was the 3rd overall pick in the 2014 NBA draft, but missed both the 2014-15 and 2015-16 seasons while recovering from a navicular bone fracture in his right foot.
Embiid had the first surgical procedure to repair the navicular bone performed just days before the 2014 draft, then required a second surgery in August 2015. There have been no reports of any complications with his right foot during his abbreviated rookie season.
I will continue to update this story as more details come out.
Update – 4:44 PM:
Here is Stein's full report. He notes that surgery is likely to happen "in the coming days".
Update – 6:37 PM:
The 76ers have confirmed that Joel Embiid will have surgery in the coming days to repair the torn meniscus.
Update:
Embiid to undergo surgery on meniscus in left knee in coming days. Additional details to be announced upon completion of procedure.

— Philadelphia 76ers (@Sixers) March 22, 2017